After a not so long and not so careful consideration, I have decided that my first post in this honest blog about London is going to be about the least British thing ever.This is something that I find to be fitting of London's multicultural nature, and also I finally got off my lazy backside to get this blog up and running, which is no small feat when you consider that I have a very heavy backside filled with lazyness, chocolate and Jack Daniels.
Anyway, back to the subject at hand which is
*drum sounds*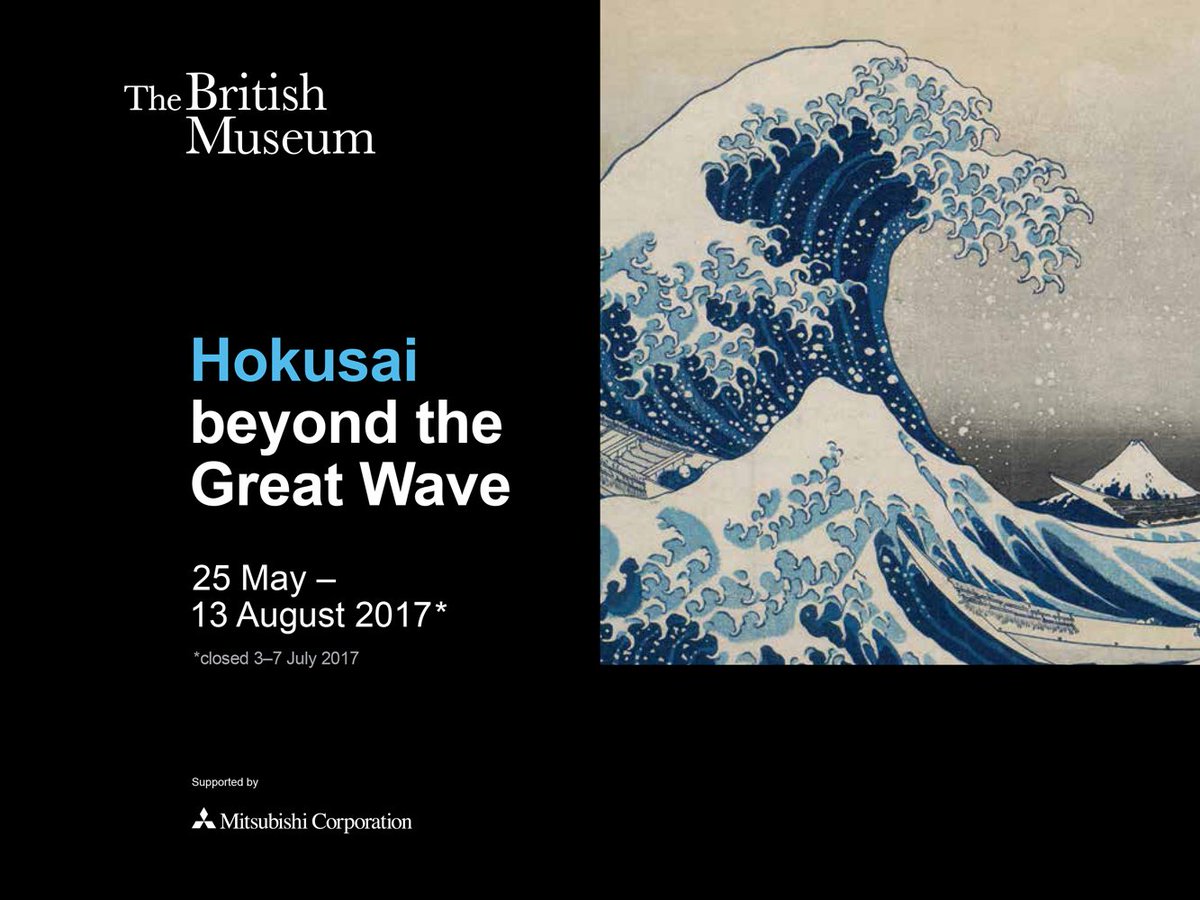 Hokusai's exhibition at the British Museum!
Hokusai happens to be one of my favourite artists, and his art and story are now available to be examined and enjoyed at the charming British Museum until the 13th of August of this year (2017). The exhibition, very accurately entitled Hokusai: Beyond the Great Wave, does indeed go far beyond his most famous view of Mount Fuji. I found this to be a title, and an exhibition, that truly does him justice. Even though The Great Wave is his most iconic work, there is so much more to be said about the man himself, his life, his influence on Japanese art and his legacy, that go far beyond this one image. This exhibition covers it all: his beginnings, the different names that he adopted throughout his life, the evolution of his work as well as its context and historical setting, and, last but definitely not least, his daughter and her work. I found this to be a very extensive and immersive exhibition and, even though you have to pay for it, I can assure you that it is worth every single Sterling Pound. But make sure you allow enough time, for it is quite a long one. I would suggest attempting to visit it during times when there aren't a lot people visiting the museum, but from I could tell, this exhibition is nearly always full.
This experience also caters to and includes the little ones, providing kids with fun "Fancy That!" signs, which explain and educate in such a way that should engage even the youngest of readers. So, I'm sure your little devils will have their own fun while keeping you company.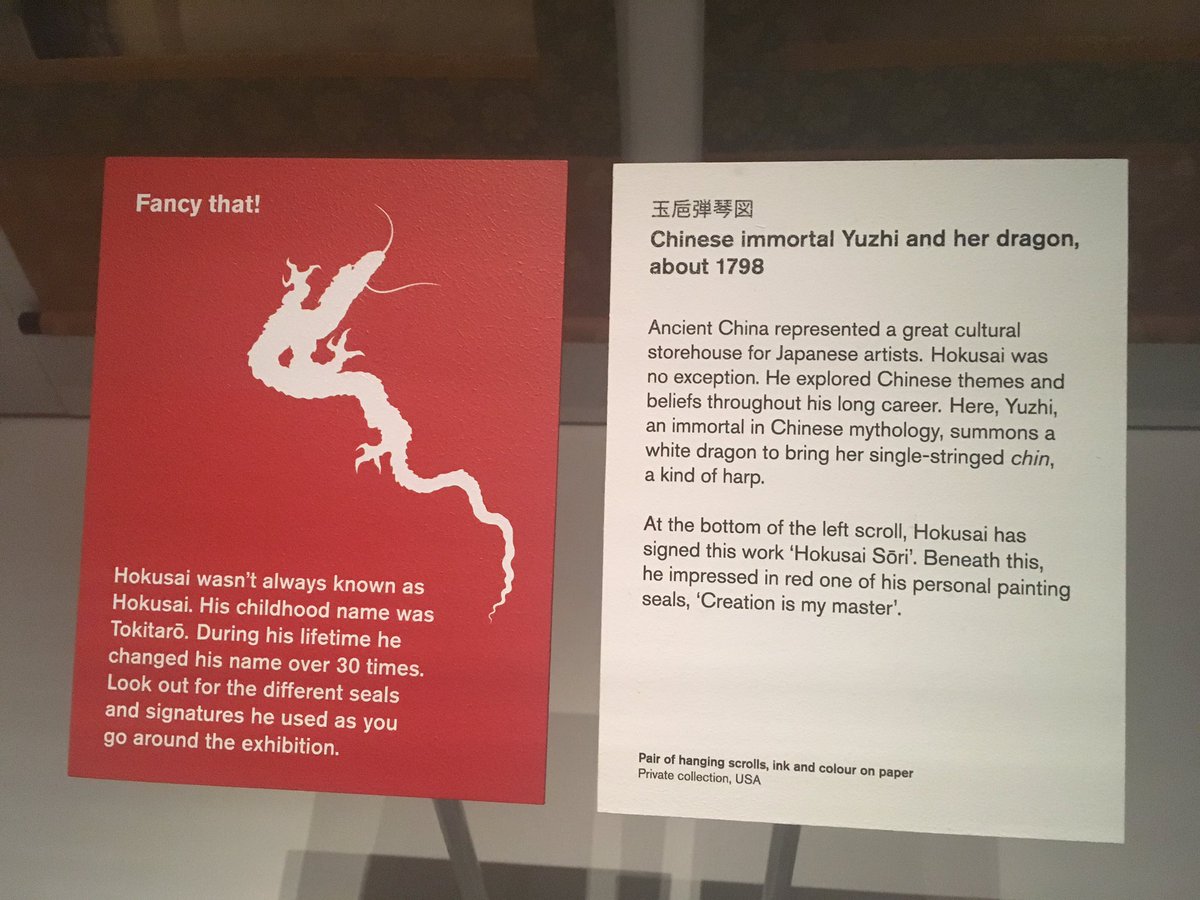 On your way out, you will be given the opportunity to purchase a bunch of beautiful, Hokusai themed souvenirs that you don't actually need but won't be able to resist, such as jewelery, clothes, accessories, home decorating stuffs, mounted prints, stationery, and lots, and lots, and even lots more of things with The Wave on them! You can now redecorate your entire home and wardrobe with the Wave! How can you say no to that?
There will also be books about Hokusai and more general Japanese art. The main book, of the same name as the exhibition's, is a gigantic treasure box of information and art, that allows you to take the exhibition home with you (and then some!) for the "mere" price of £35. It's a bit of an investment but, if you're a Hokusai fan and an avid reader, it's definitely worth it. If you're poor like me and your birthday is just coming up, you can also put out there the request on the greater wide web in case your kind, wonderful friends are forced to read it, or generous creepy strangers feel like giving it to you out of the blue (*wink wink* nudge nudge*).
Price wise, I'd say you'll be getting a large and rather filling portion for the price tag. Random adult non-members will have to pay the full ticket price of £12, I'm deeply sorry to announce. But if you're 16 to 18 years old, a student, disabled or unemployed, you'll get a slight discount and pay only £10. Children under 16 with adults go in for free, and so do any assistants accompanying disabled people. The lucky bastards in possession of a National Art Pass will only pay £6! If you don't know what that is, I looked it up for you so you don't have to, and coughed up this link that will take up straight to the info about these magic passes: 
https://www.artfund.org/national-art-pass
Of course, if you're a member of the British Museum, you can just go in for free, as many times as you want, and I totally recommend that if you are a regular at the museum since I found this exhibition to be so long and overwhelming that I just loved having had the freedom to see it bit by bit over the span of a few days. But, it might just be my ADD that gives me a need to absorb information in small sips.
Either way, prepare yourself for a lot of interesting information and, better yet, for a lot of marvellous art!